Despite years of criticising the West while building warm ties with China, Malaysia looks to be hedging its bets and resisting Beijing's growing footprint
Displays of deft diplomacy and deepened defence ties with external powers have helped it carve out space to uphold its interests in the region
"To subdue the enemy without fighting is the peak of skill," wrote ancient Chinese strategist Sun Tzu, emphasising diplomatic subterfuge over confrontation. The same logic arguably underpins Malaysia's foreign policy towards China, specifically in the context of territorial disputes in the South China Sea.
Unlike neighbouring Vietnam and the Philippines, Malaysia has generally shunned confrontational rhetoric towards China. It has also largely avoided any overt strategic alignment with the US. If anything, Malaysia was one of the most vocal critics of the Aukus alliance and nuclear submarine deal amid concerns over rising regional tensions.
On closer examination, however, it is increasingly clear Malaysia is actually carefully hedging its bets and quietly resisting China's expanding strategic footprint.
In recent years, Malaysia has stepped up its energy exploration and maritime patrols in Chinese-claimed waters of the South China Sea, rolled back its dependence on Chinese capital and technology and subtly leveraged international law as well as blossoming relations with external powers to bolster its interests.
For decades, Malaysia welcomed the rise of China as an antidote to what it perceived as Western neo-imperialism in Southeast Asia. Former Malaysian prime minister Mahathir Mohamad went so far as to accuse "those who migrated and set up new nations in America, Australia and New Zealand" of wanting "to control the world again".
China is now the top trading partner and source of investment for many neighbours. Malaysia, under former prime minister Najib Razak, became a leading beneficiary of Chinese economic largesse, including big-ticket infrastructure investment deals as part of the Belt and Road Initiative.
Deep economic interdependence with China, which coveted Malaysia's natural resources and strategic location, prompted successive Malaysian leaders to adopt "quiet diplomacy" amid the South China Sea disputes.
Beijing's growing economic influence proved a double-edged sword, though, as it steadily stoked anti-China sentiment in Malaysia. In 2018, Mahathir engineered a stunning political comeback amid widespread disenchantment against corruption and maleficence under the Razak administration, which heavily depended on Beijing's strategic patronage.
The Mahathir-led opposition raised the stakes by accusing Beijing of "debt trap" diplomacy. It rallied nationwide support by promising to roll back big-ticket Chinese investments, which were allegedly overpriced and mired in bidding anomalies.
Once in power, however, Mahathir began to adopt his characteristic doublespeak, at once praising friendship with Beijing while warning of "new colonialism" under an economically dominant China. The trick seemingly worked – within a year, Mahathir had managed to renegotiate major economic deals with China, including the multibillion-dollar East Coast Rail Link.
But, just when bilateral relations seemed to be on the mend, Malaysia upped the ante in the South China Sea. To Beijing's chagrin, it initiated unilateral oil exploration activities within Chinese-claimed areas while submitting a note verbale to the UN to expand its continental shelf claims in the area.
When Beijing responded with fury, Malaysia dismissed China's expansive claims in the South China Sea as "ridiculous" while subtly threatening international arbitration over the disputes.
Those who thought these were just Mahathir's nationalistic antics to bolster his domestic support were left disappointed. Even the Malaysian king, a broadly ceremonial figure, went so far as to call on the government to remain "sensitive to the maritime domain" and, accordingly, "adopt a strategy that supports our geopolitical aspirations".
Malaysia controls many fortified islands and land features in the Spratlys while claiming exclusive rights to fisheries and energy resources across much of the southern portions of the South China Sea.
Following Mahathir's ousting in early 2020, Malaysia largely maintained its geopolitically assertive yet diplomatically subtle position in the South China Sea under both prime ministers Muhyiddin Yassin and Ismail Sabri Yaakob.
When Chinese vessels tried to disruptMalaysia's oil exploration activities in the disputed areas last year, then foreign minister and current Defence Minister Hishammuddin Hussein warned: "Malaysia remains firm in its commitment to safeguard its interests and rights in the South China Sea."
And earlier this year, the government snubbed China's telecoms giant Huawei in favour of Sweden's Ericsson for a US$2.65 billion 5G network infrastructure mega deal.
Prime Minister Ismail Sabri has maintained a similarly tough stance by vowing there would be no compromise on sovereignty issues in the disputed waters. In recent months, Malaysia has openly called out China over intrusions into its airspace as well as the growing presence of Chinese vessels off the fisheries-rich coast of Sarawak.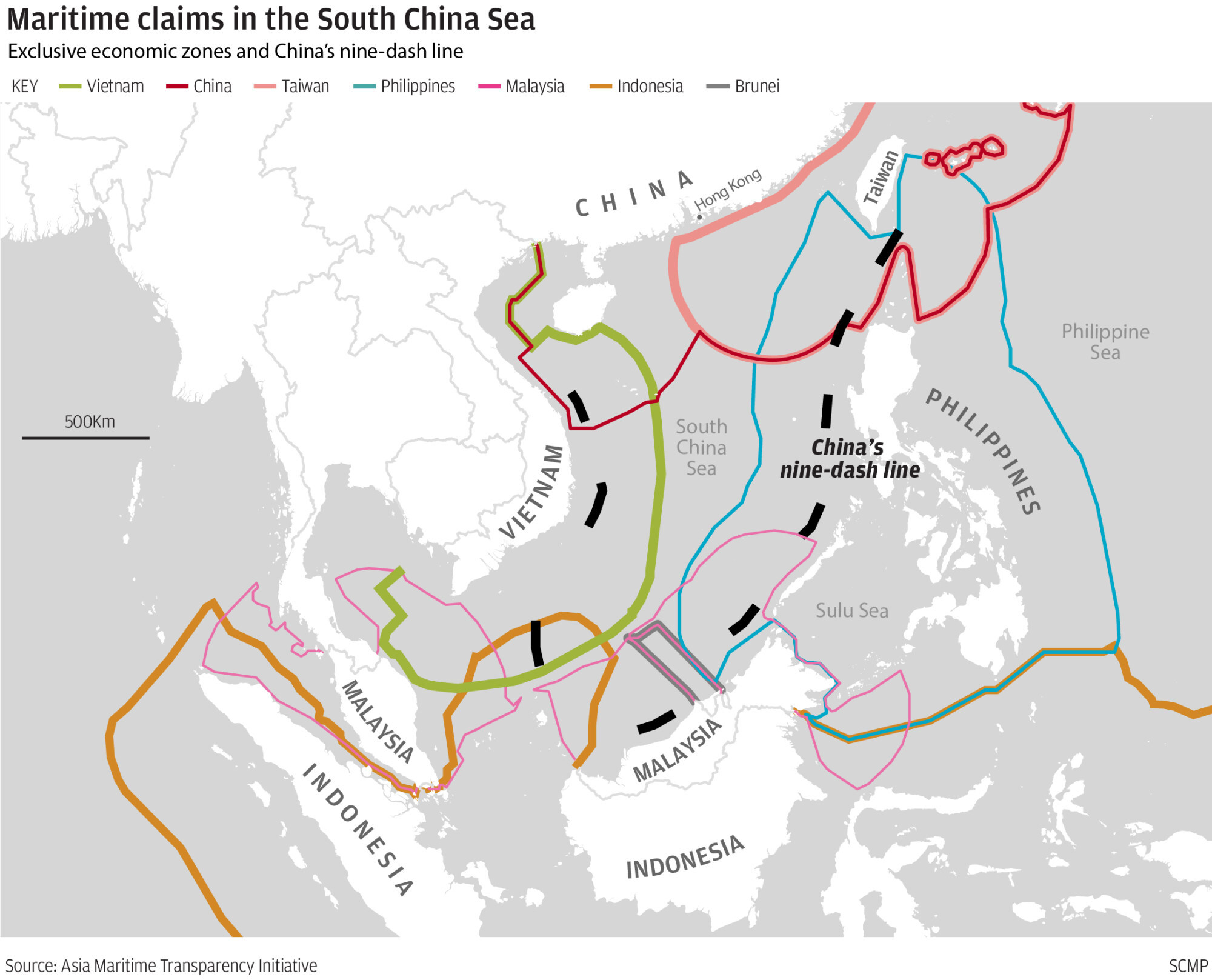 Despite its officially non-aligned foreign policy orientation and recent criticism of the Aukus deal, Malaysia has also been quietly cultivating defence ties with other major powers, including the US and Russia.
Malaysian naval forces joined the US-led Southeast Asia Cooperation and Training exercises in August along with other Western and regional powers. In April, the Malaysian air force conducted massive joint drills with the USS Theodore Roosevelt Carrier Strike Group in the South China Sea.
Expanding military exercises with the West has gone hand in hand with increased purchases of Russian weaponry, including advanced fighter jets, to enhance Malaysia's overall strategic deterrence capabilities.
Clearly, Malaysia is no pushover. It has managed to forestall direct confrontation with China by adopting a calibrated diplomacy while simultaneously strengthening its position on the ground by developing its defensive capabilities, and deepening strategic ties with external powers from both the East and West.
By : Richard Javad Heydarian (Asia-based academic, currently a Professorial Chairholder in Geopolitics at the Polytechnic University of the Philippines and author of, among others, "The Indo-Pacific: Trump, China and the New Struggle for Global Mastery") – SCMP