The Malaysian Health Ministry allowed Diaz to receive a Covid-19 jab that paved her way to Tokyo.
Malaysia's Ministry of Health claimed that the country's health minister, Adham Baba, was among those who contributed to the achievement of the Philippines' gold medallist, Hidilyn Diaz.
Diaz grabbed the gold medal by emerging champion in the 55kg women's weightlifting event.
It was Philippines's first gold in the Olympics.
Why did Malaysian officials claim credit?
Free Malaysia Today reported that Malaysia's Ministry of Health said in a statement that they were ones who gave approval for Hidilyn and her coach to be given the full vaccination regiment before heading to the Games.
This was done at the request of the High Commissioner of Philippines to Malaysia.
The statement further added that most people did not know that the man "behind her achievement" was Malaysia's health minister Adham Baba.
The statement said, "Dr Adham is responsible for helping Hidilyn to receive the AstraZeneca vaccine so that she and her team can depart to Tokyo."
Diaz trained in Malaysia
According to Malay Mail, Diaz moved to an apartment in Kuala Lumpur in February 2020 as advised by her coach.
She began training in Malaysia's capital until Covid-19 struck, with gyms closed by the restriction order.
She had to improvise her training by using bamboo sticks and bottles, as various restrictions limited her access to proper equipment.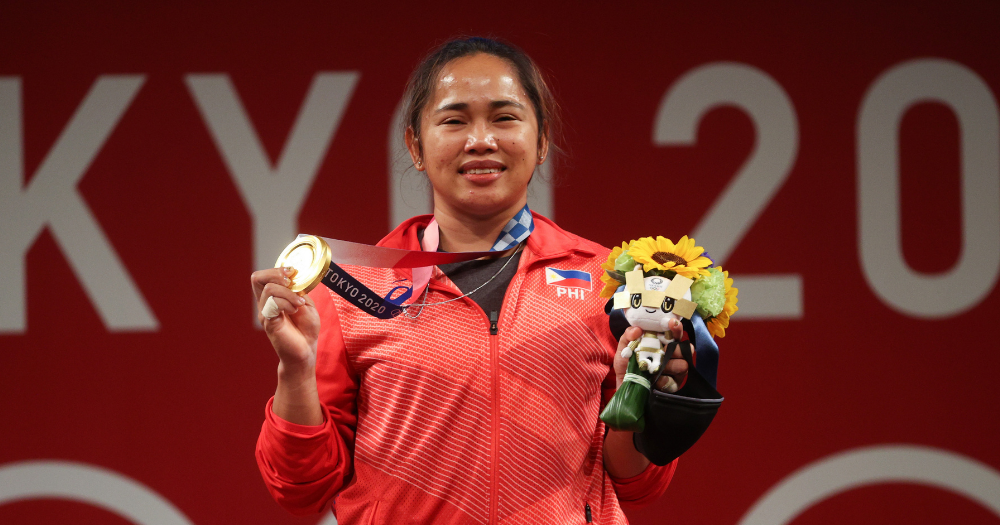 Diaz and her team shifted to a kampung in Jasin, Melaka, staying at a house owned by the parents-in-law of Ahmad Janius, the vice-president of the Malaysian Weightlifting Federation. Janius helped to move the necessary equipment to the house for Diaz's use.
Janius said that he was not surprised by Diaz's win, as she is a "focused" athlete who worked incredibly hard, New Straits Times reported. He added that he was happy for her success.
Some online users unhappy at the claim by NST and Health Ministry
However, some online users were not too keen on the claim for credit.
Some were irked by the New Straits Times article, which said that the Philippines "must" thank Malaysia for the gold medal victory.
Others, and Diaz, sincerely thanked Malaysians for their help
However, other netizens sincerely thanked the assistance rendered to Diaz and her team by Malaysia, and other Malaysians were happy to see Diaz achieve success.
And Diaz herself paid tribute to Malaysia and Malaysians in a speech after her win. According to World of Buzz, she said:
"To all Malaysians, Melaka and the people who have helped me, thank you so much. We would not survive the last year and this year without your help."
By : Sulaiman Daud & Faris Alfiq – MOTHERSHIP.SG