The elderly man in the barbershop is clutching a pair of silver barber shears in his right hand, while his left holds a wooden comb. Whenever he isn't talking, he fiddles handily with the two objects and moves onto a blank stare. As he spoke with The Jakarta Post, he would often fill gaps in the conversation by gazing into the giant-sized mirror of the barbershop, which has been dulled with stains and mirror-fog from the passing time. The contrast of his obvious old age and the fluidity of how his hand works with the comb and scissors would fascinate anyone who watches him work.
At 72 years old, Ding Kok, is a Surabayan icon – a barber and the owner of a distinctly old-school barbershop in Surabaya named Shin Hua. The barbershop has been around since 1911, established by Ding Kok's father, Tan Sing Co.
Ding Kok, known by his customers and those around him as Om (uncle) Edi, is the second generation manager of Shin Hua. He started managing the barbershop located in the city's Chinatown, Kembang Jepun Surabaya, in 1965. At the time, Edi had just graduated from junior high school. He was forced to bury his dream of continuing his education because the New Order government issued a policy to close all schools affiliated with the Chinese community.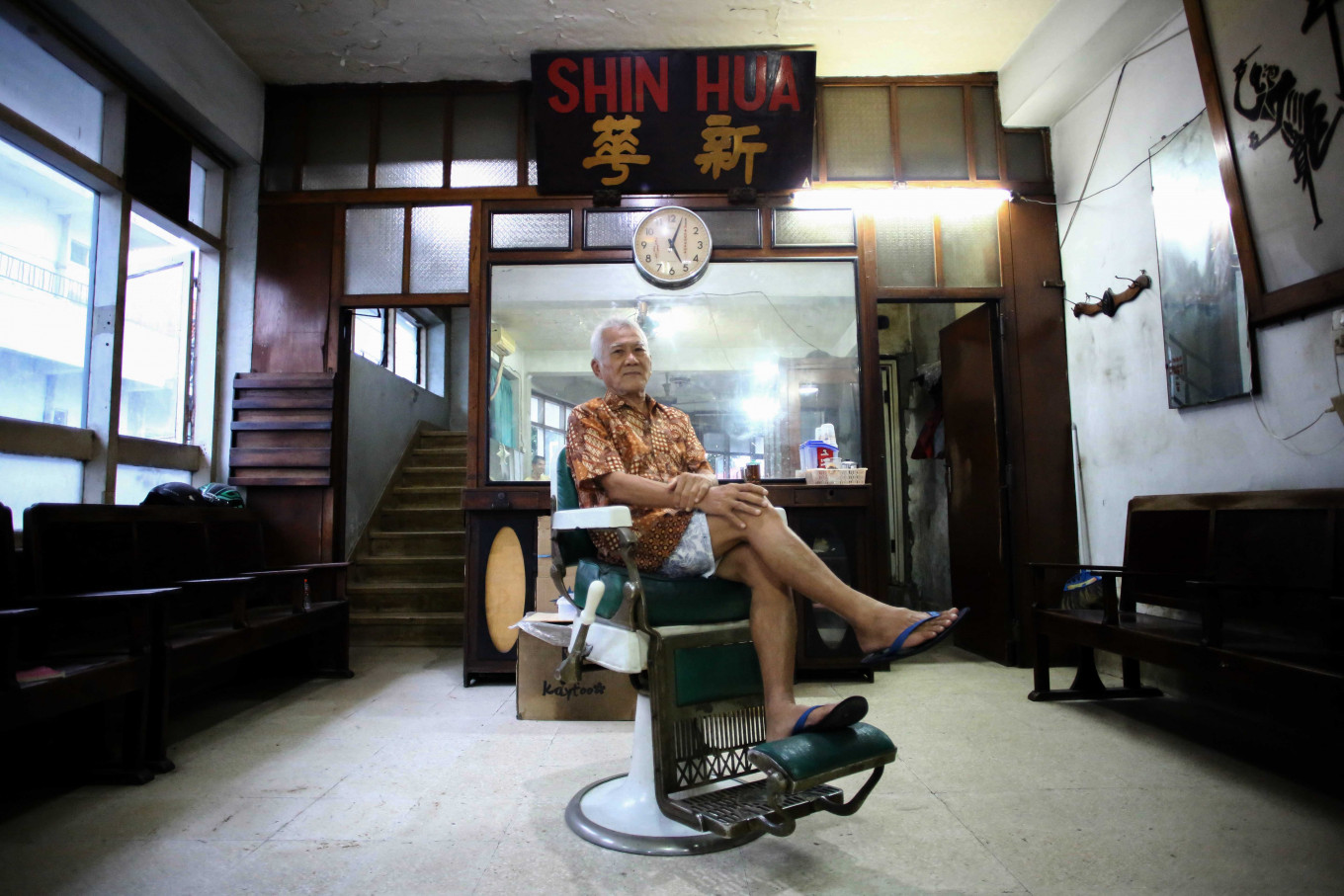 "You can say that I was forced to become a barber. My original goal was to become a doctor. But how? [At the time] We [Chinese-Indonesians] can't even enroll in universities. The circumstances were not possible. So I had no choice. For those who were rich, they could easily study by moving abroad. But I couldn't. I have to take care of my father. So, the first time I was asked to cut hair, I cried. I was lamenting my fate, why was it so hard for a minority," he said with a laugh.
Shin Hua means "just bloomed", a name chosen by Edi's father, with the hope that the spirit will never fade – Ever blooming like when they first started the business.
The barbershop is on the second floor of an old white building. Despite being a decade old, the Shin Hua building still looks solid. The dark brown wooden door made of teak wood still looks dashing as it waits for customers to arrive.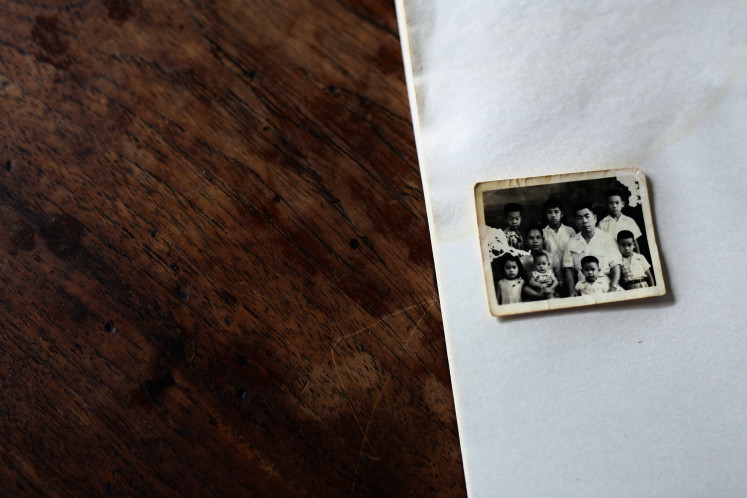 Out of time
The barber shop is quite spacious. Shin Hua occupies the building's second floor, which measures 8 by 12 meters. Time has stood still inside the shop. Everything seems eternal. Since it opened more than a century ago, almost none of the ornaments in that place have been changed. The iron chairs covered in the white ceramic are still very sturdy. In fact, he still uses the same towel and barbershop apron, inherited from his father.
"I didn't change them on purpose to carry the memory of my father. He's no longer here. He's turned to ashes, but I want to make the memories last forever. The chairs are also inherited from him. After all, everything is still in good condition," said Edi.
In its heyday, from the 1960s to the early 2000s, every day there were at least a hundred visitors who entrusted their hair to Edi's hands in Shin Hua, hoping to keep up with the latest hairstyle trend of their time. However, when Edi grew old, one by one his customers began to leave him. The reasons are various. Some of the long-time customers have died. While for young people, Shin Hua's name is not much heard, and they deem the style mastered by the barbershop to be outdated. In addition, the barbershop business managed by young people nowadays is leaving Shin Hua with many competitors.
"There weren't many barbershops around so it was easy for people to know about this shop. What's more, Chinese movies were trending. Many people wanted to have a cut like Jackie Chan, or neatly like Chow Yun Fat. I'm good at handling that. Now Korea has gotten the hype. I only know Korean military hairstyles. As for the celebrities, I don't follow the styles," said Edi.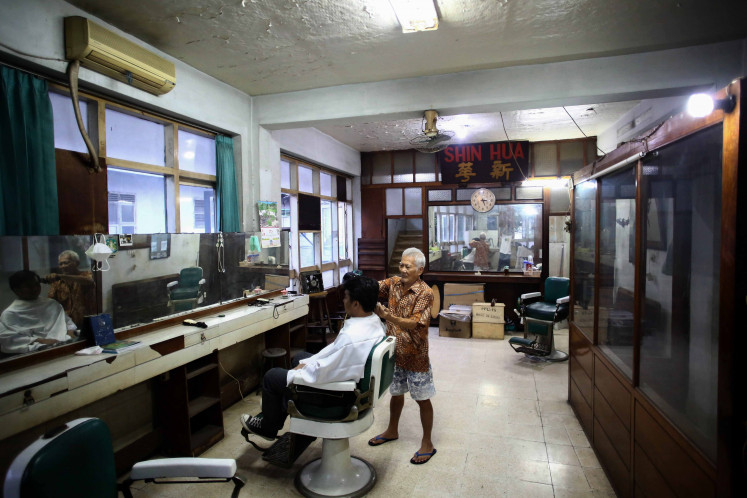 Times have changed, and Shin Hua begins to fall behind. With the service price set at Rp 50,000, Shin Hua must compete with trendy barber shops that Edi said "grows like weeds". Instead of shaving and cutting 100 customers like he used to, getting 10 in one week, today, is a miracle.
"You can see for yourself, right? How many hours have you been hanging out here? See any customers coming?" said Edi as he took off the shirt he was wearing. "In the past, I was cutting hair until my legs were shaking. From opening—at 9 a.m.—until this afternoon, it was difficult to even sit down. Multiple customers. Maybe they're all dead now huh?" continued Edi with a wry smile.
In the mood for love
Edi said that he and his barbershop used to be the "prima donna" of Surabaya. The customers that he used to have were members of the upper class society. For Edi, it was his heyday. Including in his love affairs, which he eagerly shared, unprompted.
Throughout his life, Edi has tried to build a household four times. However, all of them ran aground. Edi's first wife was a Peranakan Chinese. Their romance was relatively short. His wife and her mother had secretly sold Edi's first house.
"So I went into the house. Incidentally the location was outside the city. I was surprised to see many people asleep, and I knew none of them. I almost got yelled at for being a thief. Luckily there was still time to explain. I ended up sleeping here [Shin Hua]. Wow, that was a mess," he said. After that incident, he decided to divorce his wife.
Meanwhile, Edi's second wife was an Arab. He also had to become a convert in order to be with his wife. From that marriage, he was blessed with a daughter. Now, his daughter works at an Islamic boarding school in Batu, Malang.
"But [my ex-wife and I] had to separate because she chose to be a pilgrim to Mecca. She went to Saudi [Arabia] and never came back. Our daughter stayed with me until she grew up. But I didn't feel confused at that time, I thought if it was supposed to be that way, then that was the way," he added.
Edi wanted to show that he was a loyal convert. He recited two short verses of the Quran fluently, and closed them with a burst of laughter. "Even though I'm Chinese, I can read Arabic," said Edi.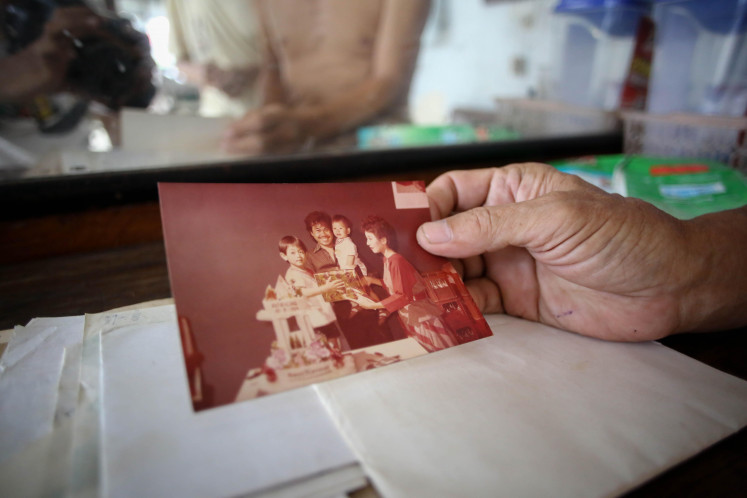 Edi then fell in love with a Dutch lady, and a knock on Edi's heart prompted him to marry her. However, their love story ran aground again. After completing his studies, Edi's wife was forced to return to the Netherlands to fulfill her parents' request. Their two children were brought along. Edi suffered from great stress and decided to never marry again. However, this was only until he met a girl from Kediri of pure Javanese descent. She made Edi swear to be faithful for the rest of his life. Despite this, fate said otherwise, and she died from a heart attack.
"Since then I vowed never to remarry. The days that followed were empty. Not a day goes by that I don't cry for her passing. My heart always feels broken. I was determined to keep my vow of love. In this world I will only continue to live until my time comes," said Edi. His gaze was cast far away at the dull mirror plastered in front of him. "It was the last love I had," added Edi.
Calculating time
Time slipped toward 5 p.m., while the sun outside was slowly sinking westward. The atmosphere became dim. When it gets dark, it is a sign for Edi to end his wait at Shin Hua. Quiet days are slowly creeping towards Edi. He sat down in his barbershop, and afterward began to clean the chairs then fold the towels and apron.
"Even this towel and apron are my father's inheritance from a century ago. Older than me," he said.
After that, he took a sip of a glass of fresh tea that was served before him. He opened a box to pack away the scissors and comb, which has not been used at all today.
He then closed the wooden box where the comb and scissors rest. Sooner or later, Shin Hua will be swallowed up by the twilight.
"Perhaps, in less than ten years, when my life comes to an end, Shin Hua's will also end. My children don't want to continue it. But that's okay. They deserve a better life. But so being a barber, that's also not a bad thing, right? This is art to me. What a joy it is to be able to age with art, and be strong at work. It's such an honor, right?"
By : RENO SURYA – THE JAKARTA POST