At a time when so many things are restricted, a new creative space has opened its doors, offering a place to interact and spark conversations.
Rumah Dini creative space, located in the heart of the West Java provincial capital Bandung, brings together 12 artists from diverse backgrounds and media for the "Influx: Inauguration" exhibition, which runs until Feb. 7.
Held offline, with health protocols in place, the ongoing exhibition is the first in the two-part opening exhibition, with the second one scheduled for March, with different artists.
The exhibition's curator Ganjar Gumilar explained in a statement that the theme "Influx" was chosen not just to reflect on the number of participating artists but also the diverse artwork being presented.
Twelve artists come from different cities, including Bali, Jakarta and Yogyakarta. Some, he said, could not personally attend the exhibition but their works at the exhibition represent the resilient spirit of the art world during this difficult time.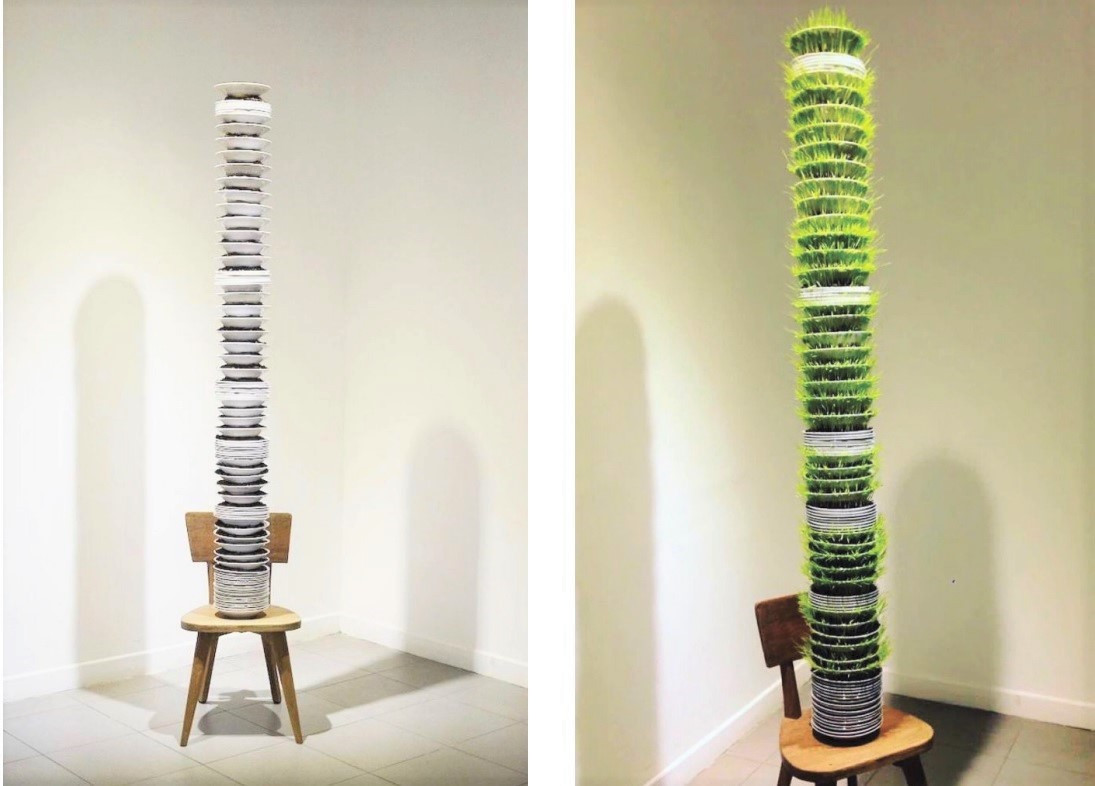 "We hope Ruang Dini can become a space [for artists and audiences] to grow and it serves as a catalyst in developing their potential," he said, quoting the vision of the creative space's founder Dini Triani Harianti, who is a business developer and market researcher with a strong interest in art that comes with great story.
The artists, both veteran and emerging artists, are Abdi Setiawan, Anton Ismael, Dua Studio, Eddy Prabandono, Eldwin Pradipta, Erik Pauhrizi, Erwin Windu, Evi Pangestu, Joko Avianto, Jumaldi Alfi, Maryanto and Wimo Ambala Bayang.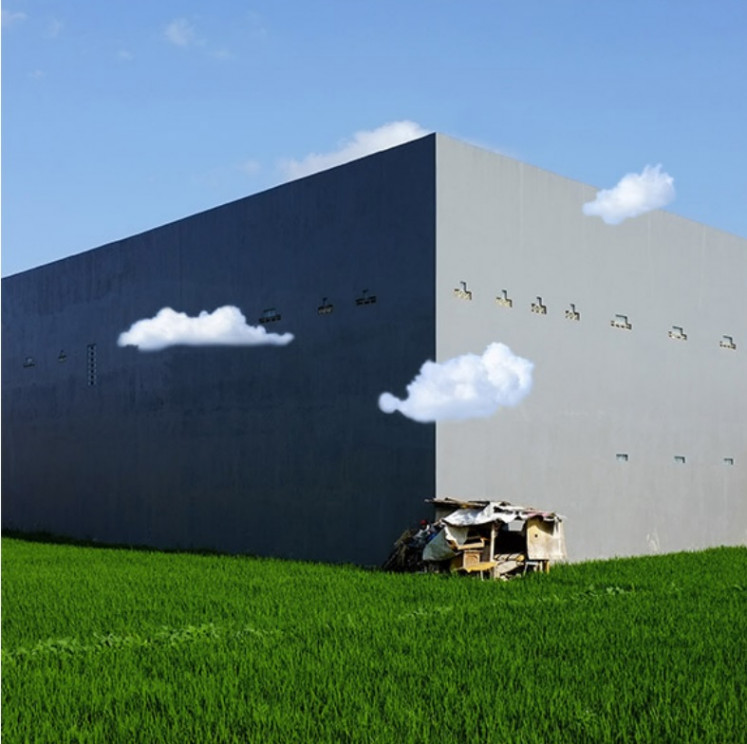 They were selected by Andy Dewantoro, the creative space's artistic director, who himself is a reputable artist, being named a top-30 finalist for the 2019 Sovereign Asian Art Prize, Asia's most prestigious prize for contemporary artists.
Andy said the artists were chosen for their diverse backgrounds and skills and the works are influenced by their educations, artist residencies, where they are from or their surroundings.
"I'm more interested in the diversity [of artists and their art practices]," he told The Jakarta Post over the phone.
Being an artist himself, he said, gives him an advantage in his new role at the creative space, since he has long known the participating artists and their works, making the exhibition feel like a reunion of some sort among old friends.
"We meet again at this exhibition, connecting again," Andy said. "And as an artist, I have the needed sense and taste to help me work [as artistic director]. When we talk, I understand them."
Some of the participating artists come with their latest works, including photographer and artist Anton who stays true to his exploration of identities with Sancta.
Dua Studio architecture and design studio, which was part of the Indonesian Pavilion team in the Venice Architecture Biennale 2018 and Art Jakarta architectural design in 2019, reflects on social issues through its inflated stainless-steel piece, titled Celebrating our relationship with the ground.
It is also a time for contemplation, leading to a body of work that resonates with the present situation as shown in Dear Painter, Paint for Me by Yogyakarta-based artist Jumaldi, cofounder and member of the prominent Jendela art collective.
Critical perspectives on the prevailing social gap are presented by visual artist and pioneer in experimental photography and video art Wimo, who combines reality and fantasy to peel different cultural layers in Holy Clouds.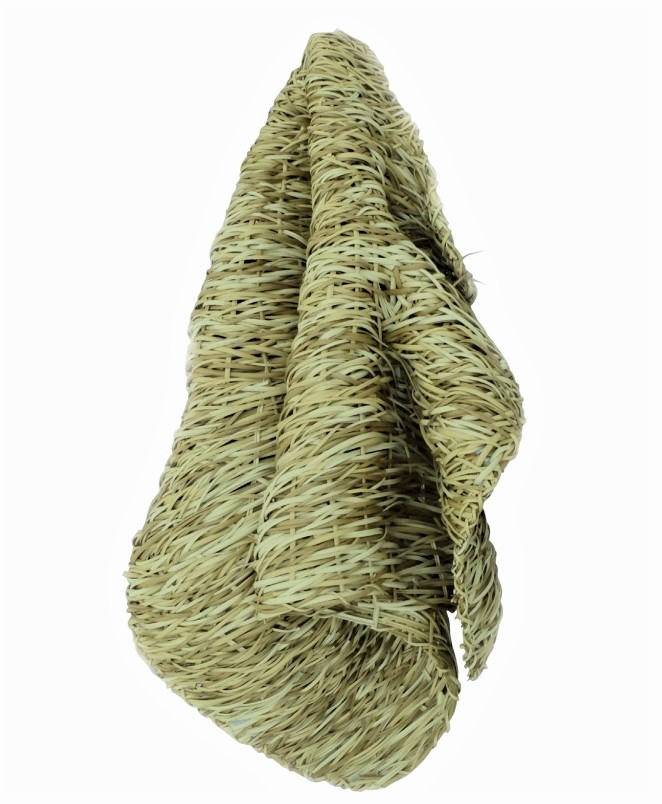 Joko, who has made a niche for himself as a bamboo artist since he began specializing in working with bamboo-related materials as his preferred medium, presents his latest explorations using synthetic high-density polyethylene, one of the most versatile plastic materials around in In any case, it looks like myself needs to go back to the sculpture matter.
Despite the pandemic, the artist, who stole public attention with his controversial Getah Getih bamboo installation placed at the Hotel Indonesia traffic circle in Central Jakarta back in 2018, is constantly active.
Joko was one of 30 artists and celebrities from 18 countries who took part in the Maskbook video to mark the fifth anniversary of the Paris Agreement in December last year.
These public figures wore masks created specifically for them by the artists. Joko created Sundanese's style seseg mask made of woven bamboo, which was worn by Indonesian celebrity and environment activist Nadine Chandrawinata.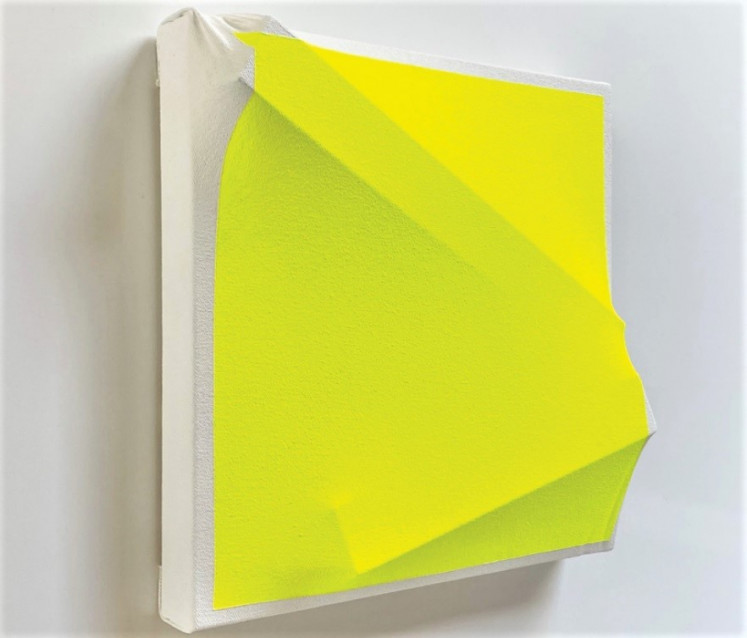 Indonesian artist Evi deconstructs her painting in a way that creates a 3D impression and splashes it with a yellow neon color in Forced Interaction, which Andy finds unique and fresh.
In her website, the 28-year-old artist, who has lived and worked itinerantly since she graduated from London's Royal College of Art in 2019, defines herself as a painter who investigates rebellion and control within the parameters of convention. She is currently based between Oakland in the United States, Jakarta and London.
Another participating artist is Eddi, whose one of the renowned works is the installation After Party #3: Living the High Life – a modified blue Vespa that appears to have a very long spiraling seat that curves like a dancing ribbon. The installation was showcased at the 56th Venice Biennale in Italy in 2015 and is now parked at the Gandaria City mall in South Jakarta.
At Ruang Dini, Eddi's work is no less thought-provoking: plant-sprouting dinner plates stacked high on a chair. The work, titled Greedy, first shown during the Jakarta Contemporary Ceramics Biennale at the National Gallery of Indonesia in 2016, pokes fun at people's behavior.
The artist explained that he wanted his art to be a spectacle for observers – funny, entertaining and even stupid to those who see it.
"I want to show how greedy people are – over food, over power, everything," he told the Post over the phone on his way back home to Yogyakarta, where he is based, from an exhibition in nearby town Magelang in Central Java.
The pandemic has not hindered Eddi's creativity, joining several exhibitions, both here and abroad. His work Vespa (2013), which belongs to collector Lito and his wife Kim Camacho, is currently being shown at "The 4th IMPART Collectors' Show", organized by Art Outreach Singapore, which this year goes online, running from Jan 19 to Jan. 30.
"An artwork is good if it is simple but delivers the message – not just looking visually clever but confusing," Eddi said.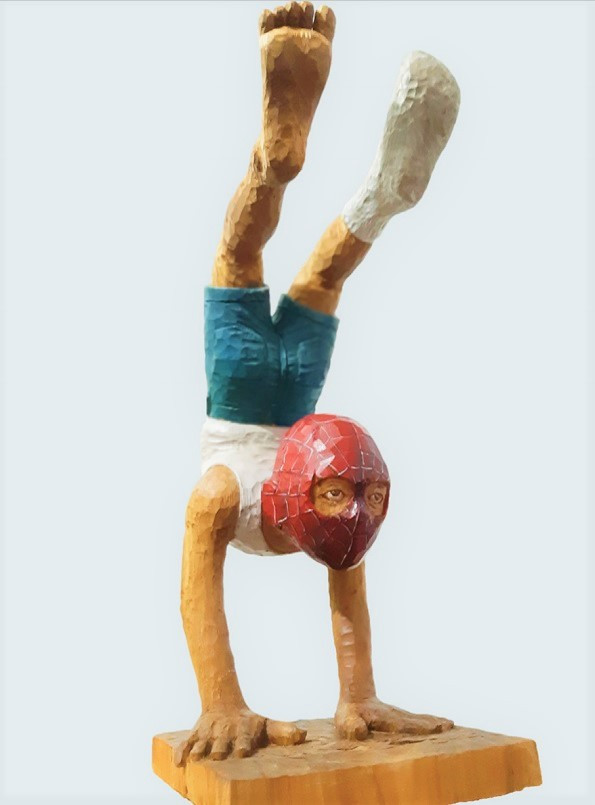 In "Influx", artist Abdi presents an amusing sculpture that offers his personal interpretations of today's life and culture in Seimbang (Balancing) – a realistic rendering of a figure, with the head covered in a Spiderman-like mask, doing a handstand.
The 49-year-old artist, who last year alone took part in three group exhibitions, including ARTJOG Resilience in Yogyakarta and Gallery Lukisan in the Netherlands, is renowned for his preference for using teakwood as his main medium of expression.
Abdi explained that for him, his sculptures are the actors of his installations. "In displaying my installation, I feel like I'm the director," he said.
By : STEVIE EMILIA – THE JAKARTA POST