The new official height is 8,848.86 meters — roughly one meter higher than Nepal's previous measurement. Global warming and a 2015 earthquake spurred speculation over the actual height of the world's tallest peak.
China and Nepal announced a "revised height" for Mount Everest on Tuesday, after separately spending months measuring the world's tallest peak. That new height is 8,848.86 meters (29,032 feet), up by just one meter from Nepal's previous measurement and about four meters from China's.
Nepal had sent a team of surveyors to the top of the peak in May 2019, while China sent a team earlier this year. It was the first time Nepal had independently carried out such measurements, amid speculation over a possible change in height due to global warming and a 2015 earthquake.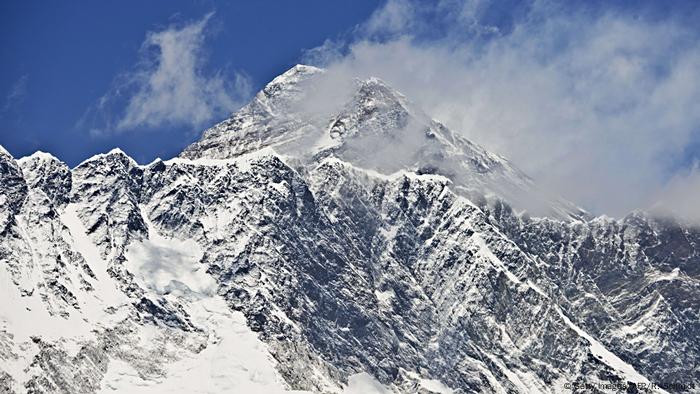 Nepal previously recognized 8,848 meters as Mount Everest's official snow height, which was the finding of a survey conducted by the Survey of India in the early 1950s.
Since then, however, several teams have taken measurements, offering different results in each case. The new official altitude value could also be more accurate not just because of improved methods of measurement, but also because of a shift in tectonic plates after the 2015 earthquake, Christian Gerlach from the Bavarian Academy of Sciences and Humanities, told news agency dpa.
Joint project for 'eternal friendship'
The melting of snow due to climate change could have also affected the height, he said. Nepal initially wanted to conduct the measurement alone, but after Chinese President Xi Jinping visited the Himalayan nation in 2019, the measurement became a joint project under the sign of "eternal friendship."
To determine the height, teams from both countries climbed the mountain and measured it with angle encoders and devices that receive GPS signals. Mount Everest is one of the most popular peaks and is visited by mountaineers from all over the world.
The peak made headlines last year following a record string of deaths, and viral images of a traffic jam at the top of the mountain. This year's climbing season was canceled due to the coronavirus pandemic, making it the first time no foreign climbers would summit the peak since a massive earthquake forced authorities to close it to the public in 2015.
lc/dr (AP, dpa) / DEUTSCH WELLE