KUALA LUMPUR: Former Bersatu Supreme Leadership Council (MPT) member, Datuk A. Kadir Jasin has suggested that opportunities be given to young leaders to take over in an orderly and planned manner to ensure the continuity of the country's administration.
In a post on his Facebook, he said it was time for the current political leadership to be replaced.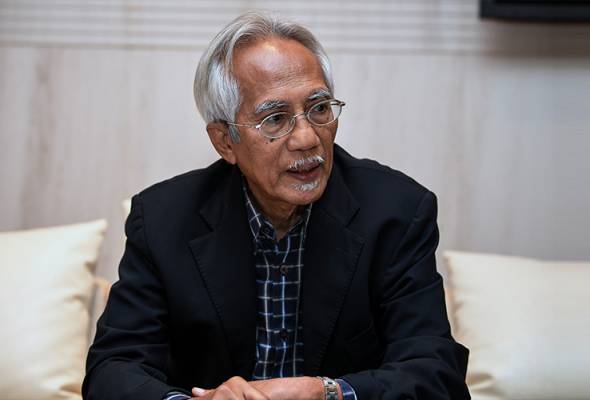 According to him, the current leaders were involved in politics and holding important positions from the time they were young, thus there was no reason for young leaders to be said to be unworthy to replace their positions.
"I am more than confident that we have a large number of heir leaders who are capable of being trained and given the opportunity to take over.
"It is very dangerous for us to allow ourselves to continue to be mesmerized and fall victim to political corruption in the style of 'the scheme of things' and 'cash is king' that we can no longer look beyond the current senior leadership," he said.
Earlier, Kadir also wrote the same thing on his personal blog about the need to give young leaders the opportunity to take over.
He cited an example of how Tun Abdul Razak Hussein and Tun Dr Mahathir Mohamad, at the age of 48 and 45 years old respectively, had tried to change the history and direction of the country.
According to Kadir, when Razak and Dr Mahathir worked together to change the direction of the country at that time, there was no protest or ridicule saying that the two leaders were too young.
"Tunku (Abdul Rahman) took over UMNO from the late Datuk Onn Jaafar in 1951 when he was 48 years old and became Prime Minister at the age of 54. There was no protest or ridicule saying he was too young."
The late Tun Hussein Onn too became the Prime Minister at the age of 54, Dr Mahathir 56 (first round), Tun Abdullah Ahmad Badawi (64) and Datuk Seri Mohd Najib Razak (56).
Read : It's time to replace 'ancient political dinosaurs' – Analyst
"Today, many leaders who are waiting for the same are in their 60s or 70s like Datuk Seri Anwar Ibrahim (73 years old).
"The reality is that our top-level leadership is getting older day by day while our demographics are getting younger day by day. From the 15th GE, citizens as young as 18 can vote.
"If in the past our political inheritance system could give opportunities to young leaders as happened to Tunku, Abdul Razak, Hussein, Dr Mahathir and Mohd Najib, the same opportunities certainly can be given to young leaders today!" he added.
He also reminded that when Tengku Razaleigh Hamzah was appointed to lead Petronas, the prince was 37 years old and two years later he was appointed Minister of Finance at the age of 39.
Kadir also listed some young leaders who should take over the leadership of the country including Datuk Seri Mukhriz Mahathir, Khairy Jamaluddin, Nurul Izzah Anwar, Adly Zahari, Hannah Yeoh and Liew Chin Tong.
By : Irwan Muhammad Zain – ASTRO AWANI