Turkey, Greece and Cyprus are embroiled in a war of words that is quickly escalating to shows of military strength. What is the source of their acrimony? As with many global disputes, the countries are squaring up to each other over access to natural resources, namely potential gas and oil deposits under the seabed of the Mediterranean.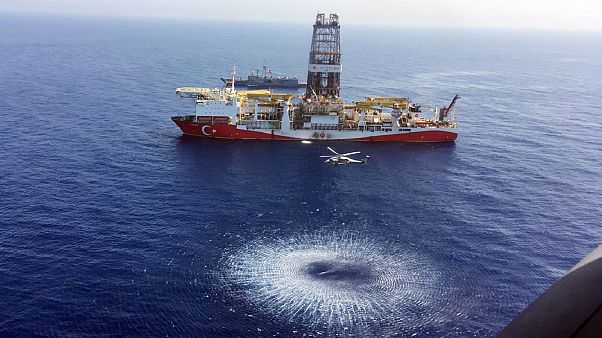 Tensions in Eastern Mediterranean are nothing new, with NATO allies and neighbours Greece and Turkey coming to the brink of war over a range of issues on no less than three occasions since the 1970s. Competing efforts over drilling rights in a region, which has seen a boom in oil and gas extraction in the last decade, are just the latest in a string of disputes going back four decades.
"Illegal gunboat diplomacy"
So, what's happened? Turkey first sent a drilling ship to the Mediterranean in May 2019 where it carried out seismic surveys and exploratory drilling off the north coast of Cyprus, leading the island nation to condemn what it sees as illegal.
In response, the EU sanctioned Turkey in July 2019, reducing pre-accession financial assistance to the country for 2020 by €145.8 million and halting high-level bilateral talks.
Having been dragged into the dispute, which involves two of its member states, the EU has continued to show "firm solidarity" with Greece and Cyprus, consistently warning Turkey to refrain from drilling activities over the past year.
Unperturbed, Turkey's foreign ministry released a statement at the time saying the EU's sanctions "will in no way affect Turkey's determination to continue its hydrocarbon activities in the Eastern Mediterranean."
Rather than deescalating the situation, Turkey has deployed further drilling ships to the region this year along with navy escorts, exercising what it sees as its rights to access Turkish Cypriot waters – something that currently contravenes international law.
In June, Greece's foreign minister Nikos Dendias used a meeting with the EU's Representative for Foreign Affairs, Josep Borrell, to condemn Turkey and decry "its illegal gunboat diplomacy."
As of late August, Greece and Turkey have both put their forces on high alert, deploying their navies to shadow one another in the Mediterranean and perform competing combat exercises in the sea between Crete and Cyprus.
In response to the ongoing crisis, Greece also announced on August 26 that it would be extending its territorial waters from six nautical miles to 12 nautical miles – a perfectly legal move in international law – along its frontier with Italy, abandoning what Prime minister Kyriakos Mitsotakis called years of "passive" foreign policy.
By David Walsh – Euronews