Pani puri occupies a special place in Indian hearts and stomachs, so it's no wonder that the treat has been one of the country's most missed street snacks during lockdown
On any normal evening in India, in the bustling markets and noisy main streets of big cities and small towns alike, there is a familiar sight: the corner pani puri wala (seller), surrounded by a gaggle of eager customers.
Pop, crackle, gulp and gasp
His hands seem to fly as they dip the puris (fried discs of dough) into various bowls of fillings and chutneys and passes them out to people waiting impatiently. The vendor's customer base stretches across age groups and social strata, with people stepping out of plush cars or families walking over from their homes. For the love of pani puri, and indeed of all chaat (fried snacks), unites Indians in a way few other things do.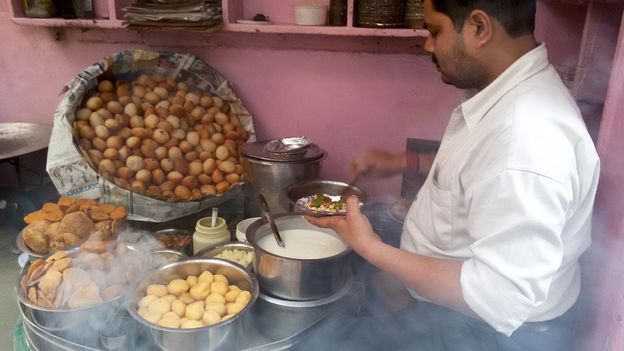 Chaat is a catchall word – from chaatna, meaning "to lick" – that covers a wide range of street snacks, where different ingredients are usually tossed together to create a sucker punch of tastes and textures. India loves these small, satisfying snacks because they fill the perfect hunger moment, that is to say early evening, when lunch is a distant memory and dinner has yet to be cooked. And of all chaat, pani puri occupies a special place in Indian hearts and stomachs.
At first glance, pani puri seems like nothing special. The word itself is a combination of pani (water, which in this case, refers to the diluted chutneys) and puri (the fried discs of dough). The crisp, thin puri, which is about the size of a circle made by your forefinger touching your thumb, puffs up upon frying to create a hollow core.
However, eating a pani puri requires much attention and no small amount of skill: poke a hole on the surface of the puri with your forefinger, load it up with your chosen filling – such as mashed potato, healthy sprouts, finely chopped onions or mushy peas – and then dunk the whole thing into sweet-and-sour tamarind and spicy green chutney waters (both often kept iced) in quick succession. Finally, pop the whole package into your mouth and wait for the explosion of flavours, as the puri – ever so slightly soggy by then – crumbles inside your mouth with the sauces flowing out, all while filling the soul and clearing the sinuses at the same time.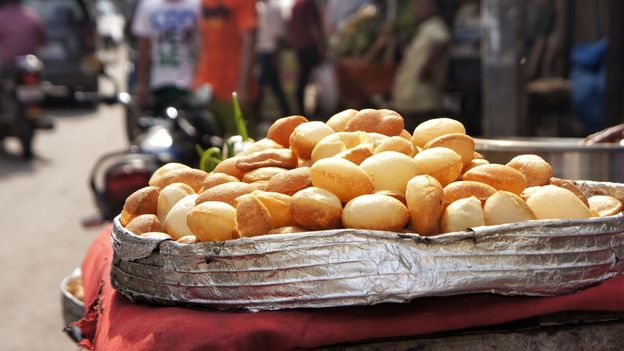 Indeed, to eat pani puri is to be prepared for liquid dribbling down the sides of your mouth and tears streaming out of your eyes – an experience that is far more pleasurable than it might sound.
For those few moments, everything feels alright
It is no wonder that the pani puri is one of the street snacks that many Indians have missed the most during lockdown, which has been in effect across the country since 25 March. Many home cooks have taken to recreating some of the magic at home, partly to satisfy chaat pangs and partly to feel the freedom of being able to walk the streets again, if only figuratively, as movement is still restricted in many parts of India. According to independent news agency IANS, as reported by The Hindu newspaper, Google India has seen a 107% increase in searches for pani puri recipes since lockdown was implemented.
Also, in these last few weeks, social media channels have been filled with paeans to pani puri, touting its near-perfect taste and sighing about missing it. As education advisor Meeta Sengupta from Delhi exclaimed to me over email, "Pani puri is pure fun! Pop, crackle, gulp and gasp."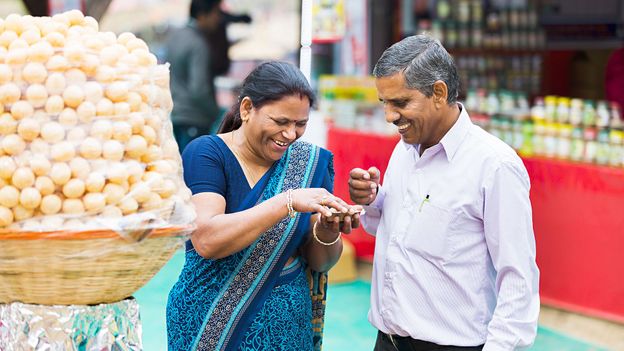 Mumbai journalist Karishma Upadhya explained, "I think my craving came from a place of wanting something that made us feel happy and 'normal'. When everything around is in such flux, it's reassuring when you taste something that your mouth and mind instinctively know. When you put that pani puri in your mouth, you know you'll get the perfect mix of cold, spicy, tart, sweet and crunchy. And, for those few moments, everything feels alright."
While some brave cooks such as food blogger Amrita Kaur are making puri from scratch – by kneading the dough to a perfect tight consistency, rolling out dozens of small discs, frying them in batches and preparing the fillings – most have used store-bought puris, purchasing them during careful grocery runs or utilising their pantry stocks.
There are many stories about the origins of pani puri. Culinary anthropologist Dr Kurush Dalal says that chaat (likely a predecessor of the modern pani puri) was first created in what is now the northern Indian region of Uttar Pradesh around the time of Emperor Shah Jahan's rule in the late 17th Century. According to Dalal, royal doctors advised the general population to consume more fried and spicy snacks (and yoghurt) to balance the alkaline quality of the water from the Yamuna River, on the banks of which his new capital, Old Delhi, was built. The puri, which was to serve as "bite-sized containers of the chaat masala" (with fillings such as potato mash), spread to the rest of the country through migrant workers who moved to large cities like Mumbai and Delhi in the last century.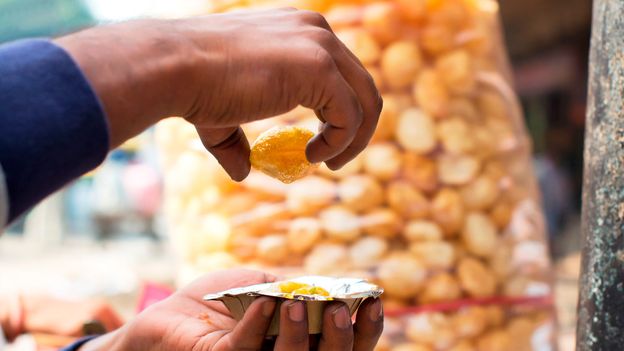 Like the most sublime chaats, pani puri is best enjoyed on the streets. And while upscale restaurants have started serving it in the last few years – with modern twists such as replacing the chutneys with spiced vodka shots and, shudder, guacamole fillings – their offerings rarely hit the spot. This is partly because street vendors know the palate of their customers and tailor each pani puri order accordingly – "Only the sweet-and-sour tamarind chutney", "No sprouts please", "Pile on the spice" – and each claims to have their own secret mixes of fillings and flavourings.
Food writer Anubhuti Krishna, who hails from Uttar Pradesh, loves pani puri but has not attempted to make it at home because, as she says, "I know I cannot replicate my favourite flavours at home, and they are sacrosanct for us UPwalas [people from Uttar Pradesh]."
Another reason could be that pani puri is best (or perhaps only) eaten by hand; there is no room for forks or finesse here. Kalyan Karmakar, culinary consultant and author of The Travelling Belly, a book on Indian street foods, describes eating pani puri as a "foodie adventure sport", adding that "restaurants cannot recreate the thrill of standing on the pavement, unperturbed by people jostling past. Your eyes are focused on the pani puri wala. You have to be ready to pop it in [your mouth] when your turn comes."
And even though pani puri is a perennial favourite across the country, it is by no means standardised or even similar everywhere. In fact, the name itself differs by place: pani puri is a Mumbai term, whereas in Delhi it is known as golgappa. In Kolkata, it goes by the name of puchka, and in Uttar Pradesh, it's pani ke patashe (or batashe). The difference comes from the puri base ingredient – semolina, whole wheat or refined flour – as well as the fillings. And like with politics and cricket leagues, Indians like to argue about which kind is the best, and in each town, which pani puri wala makes it the most chatpata (lip-smacking).
Sengupta, who uses a ready-to-fry puri (a recent innovation found in stores), told me about her own Bengali-Punjabi household where the pani is "gingery sweet, with loads of hing (asafoetida) and pudina (mint)" and with "layered textures". And Krishna, while noting that such food fights are silly, also adds that the Lucknow variety is her preferred version "because of how the softness and blandness of the matar (mashed peas) contrasts with the spicy water and the crisp and khasta(flaky) batasha."
"It is [an] explosion in the mouth, yet it is soul food," Sengupta said wistfully, perhaps summing up what millions of us Indians think of pani puri.
BBC TRAVEL